3 real-life cases re-using natural stone by-products
Rather than throwing away stone wastes from building sites, why not give them something else to do?

Paragraphes
Ckeditor
Natural stone has a rare property: it can be re-used ad infinitum. Rather than throwing away stone wastes from building sites, why not give them something else to do? Besides protecting the environment, this can solve supply difficulties of some raw materials. Here are some examples of natural stone by-product re-use that make it possible to create a circular economy.
Why choosing natural stone for new constructions?
The Grand Paris ecological corridor exploits the diversity of natural stone wastes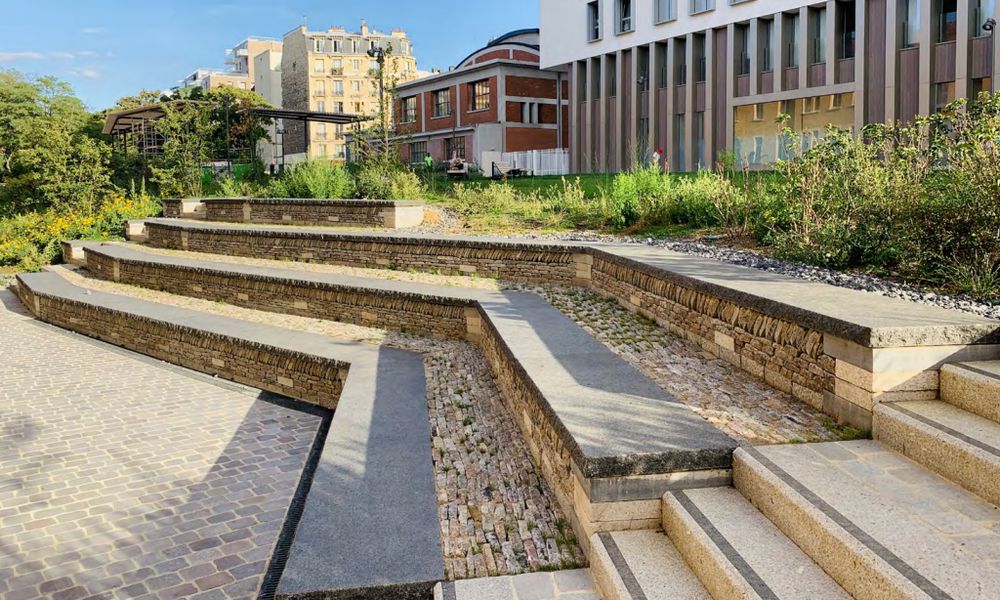 © Concetta Sangrigoli, Atelier Nous
In the Grand Paris, the green and blue infrastructure reappears as a vegetalized trail 520 meters long. The Jane and Paulette Nardal walk features several thematic spaces, "living rooms" and fun-teaching structures in which biodiversity can flourish.
Noting the diversity of the wastes from the City of Paris roadway system construction sites, the Atelier Nous Studio designed a work using recycled natural stone, a true ally in the construction of these ecological installations. Low wall/benches, an outdoor amphitheater and cut stone staircases gave a second life to these by-products. Each space features a single stone - granites of various colors, sandstone, porphyries and basalts…
The project team discovered a wide choice of waste materials in the Paris depot – a thousand and one varieties of curb and paving stones just waiting to be used again. The heterogeneity of these "wastes" from these Parisian building sites is often seen as an obstacle to re-use in roadway construction, which requires large quantities of identical materials. Here the obstacle becomes a potential.

— Concetta Sangrigoli from the Atelier Nous
See the detailed technical sheet (French only)
The Pavillon de Versailles innovates with a stone wall designed to promote biodiversity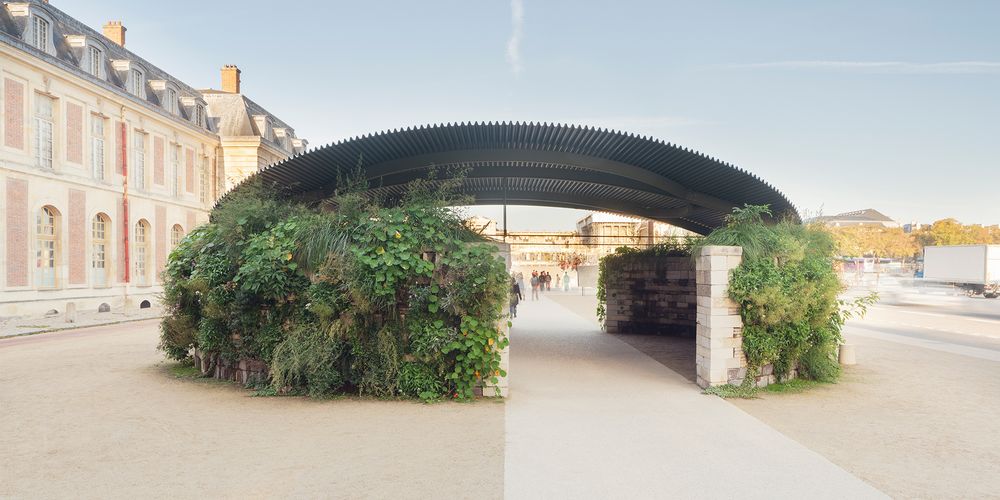 © ChartierDalix
The biodiversity wall combines the best in mineral and plant life. What makes it different from "traditional" plant walls is its niches on the front and the hollow inside the structure housing substrate, plants and animals.
Based on an experimental load-bearing wall imagined in 2021 by Joël Jannet and Martin Muriot, members of the FFPPS (French dry stone trades association), the biodiversity house was built in 2022 to celebrate the second Ile-de-France Architecture and Landscape Biennial. The ChartierDalix architectural consultancy thus recomposed as a contemporary work the Greater Paris (Métropole du Grand Paris) transitional energy policy… and proved that natural stone fully answers environmental concerns.
The Pavillon was built with natural stone wastes from roadway demolitions, carefully selected to reduce re-cutting (and thus more wastes). Limestone, porphyry, sandstones and gneisses are harmoniously articulated around an innovative project which reinvents the thousand-year-old dry stone technique to meet the challenges of today.
This building is a demonstrator of the hidden resources of the city: it reveals the potential of dumped materials, the value of their re-use and encourages reflections on the restoration of ecological media in urban areas.

— François de Mazières, mayor of Versailles
See the detailed technical sheet (French only)
The rehabilitation of the Fort l'Écluse museum perpetuates the tradition of multi-epoch architecture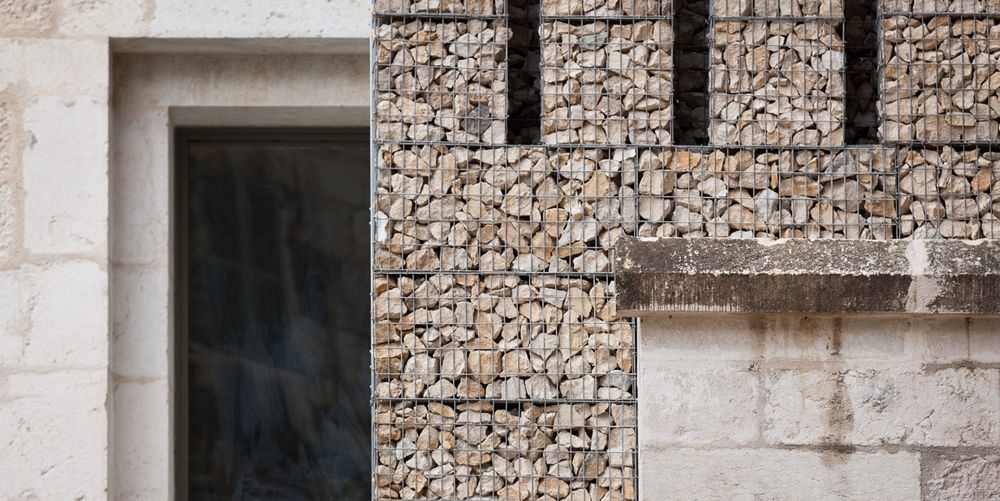 © AtelierPNG
Heir to several centuries of military architecture, the Fort l'Écluse is a curious building on a mountainside which dominates the landscape of the Country of Gex, France. To conserve its strong identity while completing the modernization works needed to host tourists was no easy task.
The AtelierPNG consultancy answered the challenge by choosing to re-use the natural stones removed during the construction and local rock. This project adds to the continuity of the history of the fort, many times improved, destroyed, abandoned and rebuilt, adding an additional layer to a truly multi-epoch architecture without modifying what already existed.
The most impressive installation, an elevator in gabions, provides access for the handicapped. A daring choice, which easily fits into the fort's austere architecture.
A second life for these stones, a new life for the fort, rebuilt from itself.

— AtelierPNG
See the detailed technical sheet (French only)
Recycling natural stone is a fast-growing trend
Strategies for natural stone re-use are not limited to natural stone buildings and structures. Limestone wastes can be used as fertilizers, crushed marble wastes can become pathways, etc.
The sector is committed to popularizing the re-use of natural stone wastes and Rocalia participates in this reflection. Several cycles of conferences will be organized around the circular economy and local stone at the next show, now the benchmark in natural stone exhibitions.
Re-using natural stone is a winning strategy from every point of view. A truly circular economy is being created. By choosing to recycle as much dry stone as possible on your construction sites you contribute to this virtuous approach which benefits everyone - and significantly cuts your costs.