Highlight your know-how in the "Building in natural stone in the 21st century" architecture awards
16 June 2021
Did you contribute to the creation of a remarkable work in natural stone quarried or worked in France over the last two years? Get yourself an international reputation among sector professionals by taking part in the 6th "Building in natural stone in the 2Ist century" architecture contest organized by the SNROC and Pierre Actual magazine.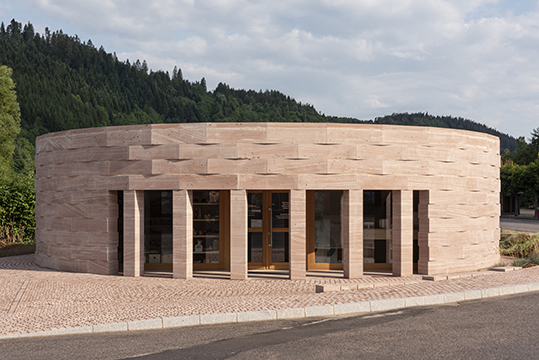 2019 winner: tourisme office of Plainfaing (France)
© Ludmilla Cerveny
 
A Festival of natural French stone and unique know-how
Since 2009, SNROC, the Syndicat National des Industries de Roches Ornementales et de Construction (French Ornamental and Construction Rocks Trade Association) and Pierre Actual magazine have co-organized our sector's "must" event – the "Building in natural stone in the 21st century" architecture awards.
This is the big event for the sector, celebrating the amazing alchemy between natural stone and contemporary architecture due to the quality of French know-how and highlighting remarkable recent achievements in natural stone. The Architecture Prize also rewards public works and constructions and installations executed outside the country but "made in France."
Architects, project superintendents, owners and stone working businesses compete for trophies in four categories:
Housing: individual or collective
Commercial premises: services, hotels, etc.
Urban developments
Other works: interior decoration, outdoor landscaping and restoration, etc.
In addition to these trophies, the coveted Grand Prix will be awarded to the work that best expresses what natural stone can be used for, whatever the category.
These architecture awards also pick out the most innovative aspects of natural stone projects. This is why a Special Prize will be awarded to the project best incorporating an approach to sustainable development (choice of materials, work up, etc.) or which presents a major technological innovation.
Find out the winners of 2019 (in French)
A rare showcase for your expertise and business booster
All the prizes will be awarded at the Rocalia fair on November 30, 2021, in Lyon (France).
The natural stone reference trade show Rocalia attracts all the professionals in the sector as well as the specialized trade media. In 2019, 148 exhibitors and nearly 30,000 visitors met up to chat, develop their businesses and form new partnerships. Held in synergy with Paysalia, the reference trade show for everyone in landscaping, Rocalia is where public authorities go to find solutions for their landscaping and stone works.
Throughout the three-day trade show, Rocalia invites these professionals to discover the winning projects at a dedicated exhibition and uses all its communications tools to promote the prizewinners' creations. And, of course, all candidate projects will be featured in Pierre Actual magazine, read each month by several thousands of natural stone professionals.
Competing in the "Building in natural stone in the 21st century" architecture awards is a unique way to promote your business. It is also a great opportunity for stone marketing companies to present their products to architects looking for providers and layers.
Demonstrate your skills by registering your project for the contest before September 30, 2021. Check out our web site Rocalia, the natural stone trade show, to register for the awards ceremony!