Natural stone helps builders respect French new thermal regulation norm RE2020
As from 2022, all new buildings must comply with these new requirements. Natural stone is an ideal way to respect them.

Paragraphes
Ckeditor
French norm RT2012 has been upgraded to become norm RE2020, causing a stir in the building trade. As from 2022, all new buildings must comply with these new requirements. Summertime comfort, low environmental impact, reduction of power bills… Natural stone is an ideal way to respect these new regulations. Interview with Tristan PESTRE Thermal and Environmental Project manager at CTMNC, the French natural building materials center.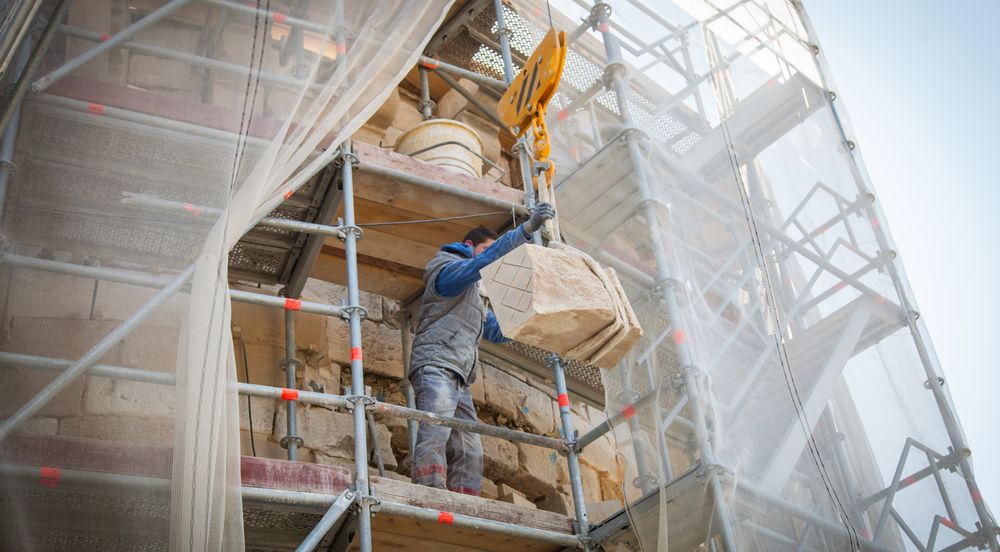 RE2020 comes into force in France very soon!
Underlying RE2020 is a commitment to improving thermal regulation in private, collective and service buildings and reduce their impact on the environment. 
RT2012 had already introduced the concept of low energy consumption buildings. This new environmental norm attempts to respect France's commitments to reducing global warming and to making the country energy-independent. The RE2020 has several objectives:
To minimize fossil fuel consumption.
To begin a transition to low-carbon construction by diversifying building materials and systems.
To make buildings more comfortable by adapting them to future climatic conditions.
By January 1, 2022, all new individual and collective dwellings and tertiary buildings (offices, primary and secondary schools) must respect RE2020 requirements. This will lead to radical changes in approaches by engineering design offices and architects.
New summertime comfort and environmental impact assessment markers for project managers to follow 
The main new feature of RE2020 is that it addresses the whole life cycle of buildings. "It assesses the environmental impact of each phase in a building's construction from the manufacturing of materials and equipment, implementation and end-of-life (deconstruction then treatment and waste disposal). In the long term, we will develop natural materials from plants and the Earth which can be recycled or reused at the end of a building's life," Tristan PESTRE explains.
Summertime comfort will become a construction basic: "As the summertime comfort marker increases, designers will have to try hard to improve conditions indoors in hot weather".
In addition to these innovations, project managers will have to meet the criteria of six markers:
bioclimatic need (Bbio)
primary power consumption (Pec)
nonrenewable primary power consumption (NRPec)
impact of power consumption on climate change (Ic power)
summertime comfort (degrees-hours)
impact on climate change construction products and equipment and their use (Ic construction)
These requirements will become increasingly stringent as an upgrade is envisaged every three years.
Check out BIM, an invaluable tool for ensuring compliance with RE2020
RE2020 requirements herald a boom for natural stone
Is the creation of new buildings in natural stone a dream or reality? Tristan PESTRE says, "cut stone buildings meeting RE2020 criteria have already been delivered which proves it can be done. RE2020 promotes the joint sourcing of plant and geological materials such as wood and earth. Natural stone is ideal for vertical walls and coverings, whatever the building is used for!"
Among the many advantages of cut stone in the construction industry, three of them meet the requirements of RE2020 precisely:
Their thermal inertia enables them to mitigate the effects of outdoor heat and reduce variations in temperature, ensuring real comfort in summer.
Stone is a material with circular economy, beneficial for everyone. Extracted and transformed locally in one of France's 570 quarries, processing natural stone generates little CO2 and it can be reused and recycled infinitely.
It significantly lengthens the lifetime of buildings - according to some studies by 140 to 750 years - thus reducing the carbon impact of the construction sector over time.
Builders do not have to resort to cut stone for all the elements in a construction project because Tristan PESTRE says, "usage dictates the right material for each job on-site. You need to view the project overall and know exactly what and how you're building before you start to design buildings that use power economically and are environmentally-friendly. However, natural stone has thermal and environmental assets which should ensure widespread use."
 
Find out more about RE2020 and building in natural stone
The benefits of cut stone will be discussed in-depth during a dedicated conference on the "must" natural stone trade show,  Rocalia 2021. 

Natural stone can effectively reduce the environmental impact of new construction projects. Changes to regulations in the building sector, reinforced by RE2020 requirements, will lead to the generalization of more ecological and natural materials. So why not start now?
Our thanks to Tristan PESTRE, CTMNC thermal and environmental project manager for sharing his expertise.
---
© Photo credit: Christophe Fouquin / Adobe Stock