Motifs and letters: zoom on stone engraving trade
Engraving specialist Robert Maréchal reveals what a stone engraver do and the challenges which confront natural stone engravers.

Paragraphes
Ckeditor
Stone engraving specialist, Robert Maréchal has been self-employed since 1976 at RS Maréchal. A little-known art which he has seen evolving over time. What does a stone engraver do? What can he be useful for? And what are the challenges which confront natural stone engravers? Robert Maréchal reveals some of his trade secrets…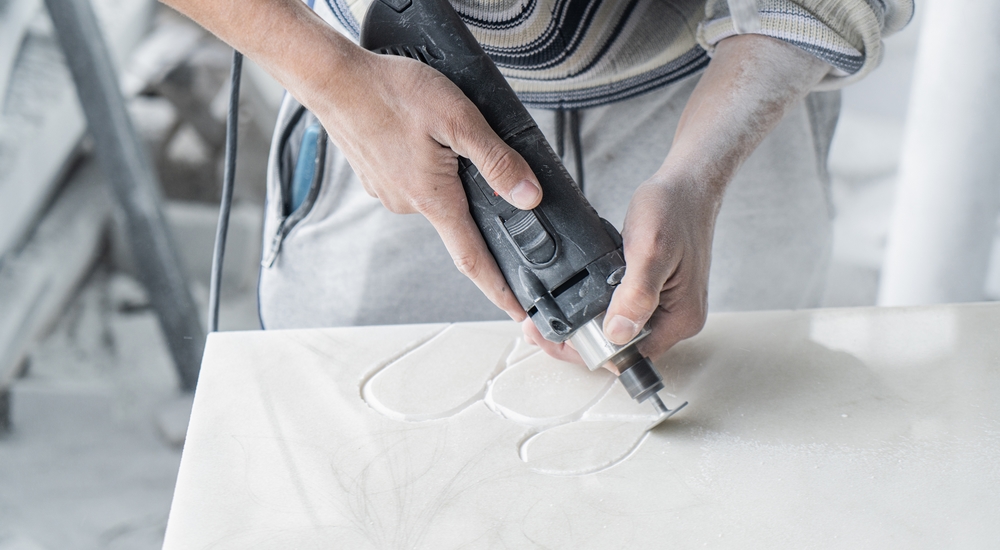 © Crédit photo : Amixstudio / Adobe Stock
Stone engraving, a fascinating trade
Engraving motifs and inscriptions demands exemplary patience and extremely precise tool control. Stone engravers' know-how can be seen in gravestones (monuments, slabs, decorations) as well as in the public and historic buildings and indoor architecture and signposts and milestones. Natural stone craft workers know how to use manual, mechanical and digital tools and also know how to gild, sculpt bas-reliefs and incrust materials into stone.

Mr. Maréchal, how did you become an engraver and how has your career progressed since you became a professional?
Robert Maréchal: I studied stone engraving at Coutances technical college in France and went on several training courses in Normandy. My parents were undertakers, so I had a great opportunity to install monuments and then specialized in working marble. In 1975, like most stone engravers, I set my own business and am still working.
I became an exam corrector with UNICEM and then a trainer in marble and stone engraving although I continued to work for my own account. I retired in November 2021 but still go on engraving – but not to such tight deadlines!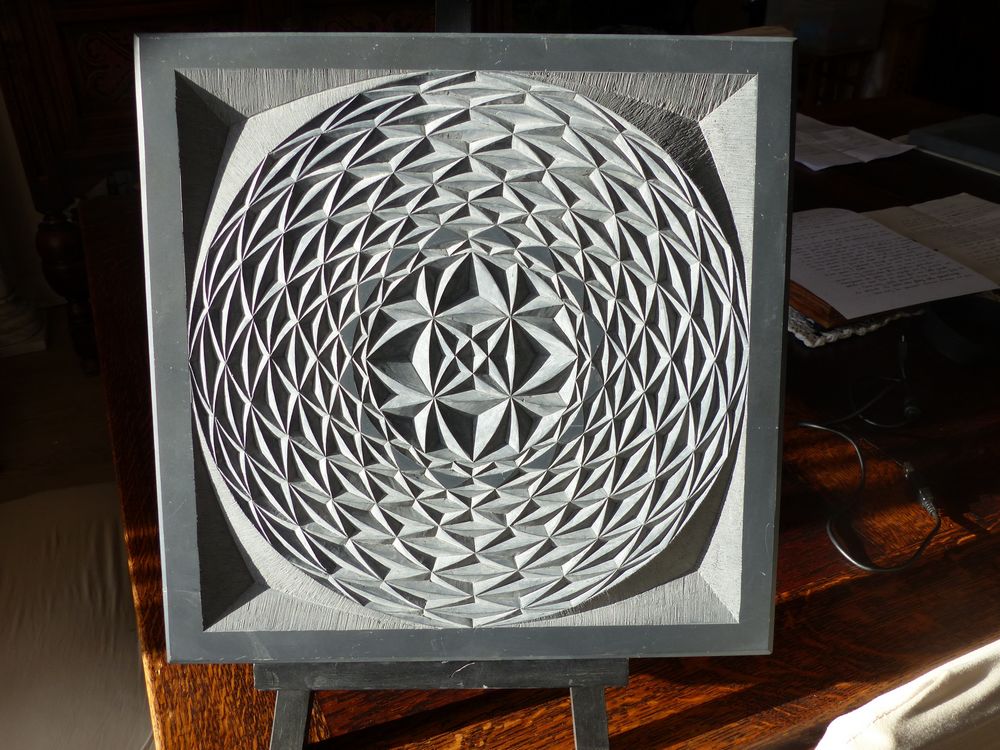 Stone engraving art by Robert MARECHAL
© RS Maréchal
What tools do you usually use to work stone?
Robert Maréchal: For manual engraving, I use traditional chisels, a hammer or a 2,500 blows/minute pneumatic drill. Each tool is used for one specific task. I also hand-draw designs which I program into a cutting machine and I create motifs either by hand or by sanding.
Like a calligrapher with a quill pen, what you need most is patience. Never go too fast!
Which sectors use your skills most?
Robert Maréchal: Gravestones account for approximately 80% of the stone engraving market. My company also works on heritage buildings both in restoration and creation. We engraved letters 22cm big on a pavement in Trocadéro, Paris, and worked on the interior of Saint-Jean's cathedral and the Lyon Law Courts.
In Roissiat, young people and former apprentices who have become trainers joined us to build the Stone Memorial Walk. 800m long, it tells our local history through our sculptures and engravings.
We also work with architects who come with precise drawings and people who have found a motif on the web and want it to feature on a grave.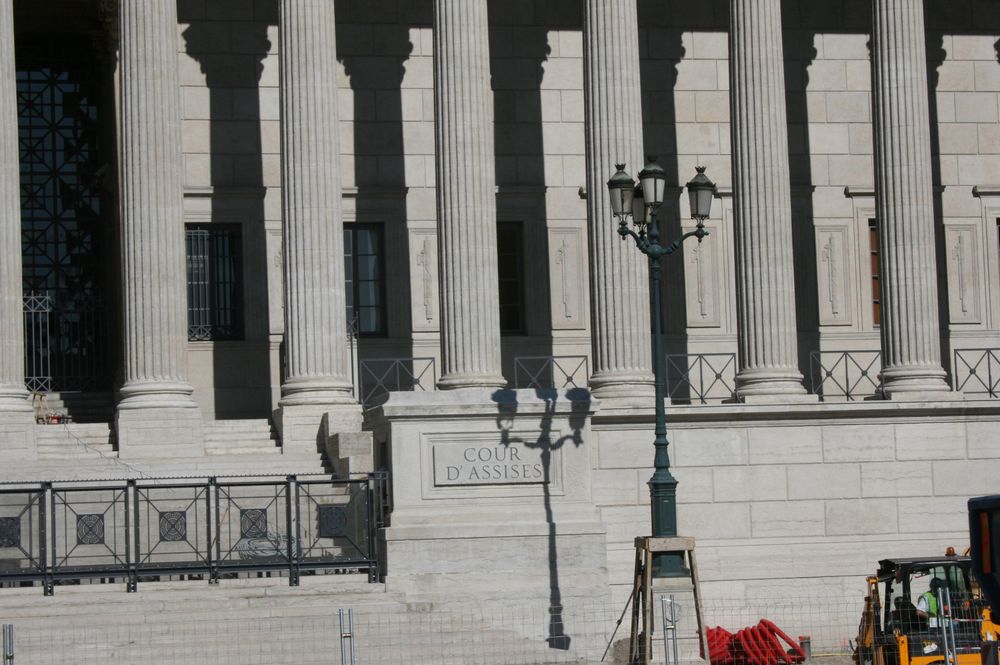 Engraving on Lyon Law Courts
© RS Maréchal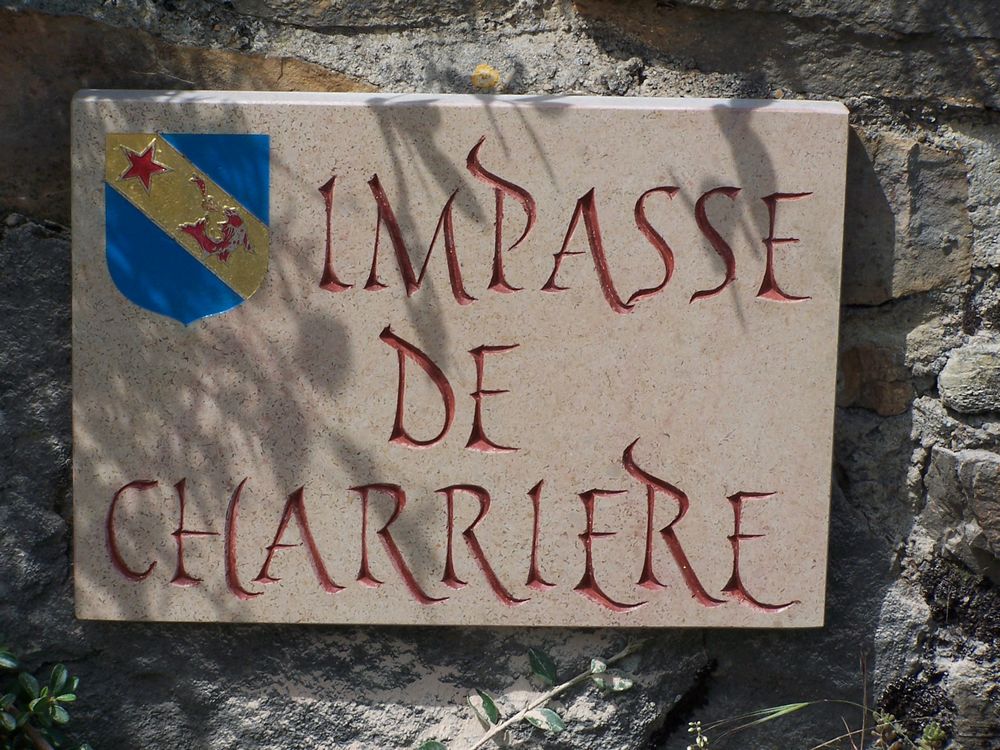 Engraved sign
© RS Maréchal
What can you expect if you become a stone engraver now?
Robert Maréchal: It can be tough going when you start as stone engravers are paid by the letter. Beginners engrave approximately 20 letters a day, which is not a living wage as you have to buy and supply the materials (gold leaf, paints) as well as professional traveling. With practice you cut more letters per day and so earn more.
Often these days you start as a salaried stonecutter with a small company and practice engraving as an independent worker until you make enough to fully go out on your own. In fact, many engravers diversify into other skills.
Learn more about stonecutting trade
How are stone engravers trained these days? Do you get enough qualified youngsters to hand over to?
Robert Maréchal: It is a beautiful trade but not very well known. There is a great lack of students in the training programs. In France, the CAP (Certificate of Aptitude and Proficiency) and its optional extension into stone engraving, which made it possible to specialize in stone cutting after two years, was abandoned and replaced by a BMA (Artistic Trades Diploma) in engraving.
Stone engravers also have difficulties in finding customers with whom they are in direct contact in the funerary sector because undertakers propose fuller and fuller services including stone engraving.
Currently, orders for stone engraving have lead times from 5 to 6 months.
You were invited several times to Rocalia. What did you present and how was did the audience react?
Robert Maréchal: I first came to Rocalia in 2019 as a member of the Engravers Trade Association to make a jigsaw puzzle from stones of local Auvergne-Rhône-Alpes area, working with the French Dry Stone Federation and Remiremont Technical College.
I returned in 2021, still in collaboration with the French Dry Stone Federation and Remiremont Technical College, where we engraved "Rocalia 2021" on a dry stone wall.
We always have a great reception from the audience. If people are curious to see how the natural stone trade is exerted, they are always welcome to visit my workshop!
Our thanks to Robert Maréchal for his experience feedback.