How French natural stone sector promotes local stone to public authorities
21 March 2022
Geo-based and local, natural stone is varied and meets the challenges of sustainable development which makes it ideal for public works. To promote French natural stone, SNROC has published a 20-page booklet to assist public authorities with their construction, installation and restoration projects. It highlights the main benefits of using local stone for public works.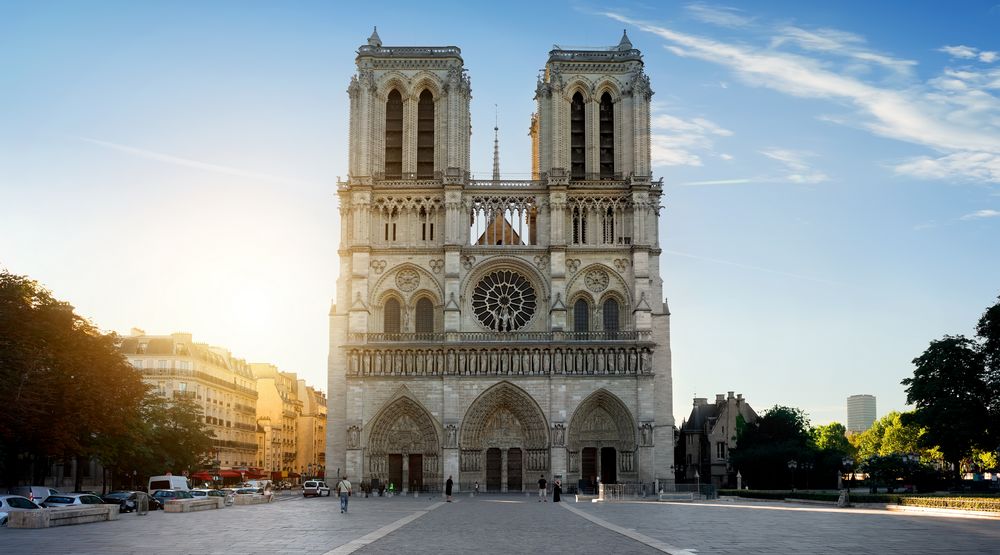 1. Making the most of a unique local know-how
With 664 companies operating over 500 quarries, the French natural stone sector employs 6,100 skilled, qualified people – firmly rooted in the areas in which they work! A centuries-old know-how in working natural stone has built France's heritage. For the SNROC, supporting French quarries means continuing this heritage.
The natural stone sector never stops innovating. The introduction of digital technology has changed many skills and led to industry 4.0, which guarantees precision, productivity, performance and improves working conditions. From design to the completion of complex architectural projects, the sector is fully digitalized and provides ever more ingenious solutions for public works.
2. Benefiting from a great geological diversity
67% of the rocks quarried in France are limestone. 29% are granites, then other rocks such as marble, schist, slate and sandstone (4%). 
But the diversity of the resources goes much further with the wealth of colors, the variety of veinings, the diversity of textures and grains and the multiplicity of finishes. It is a pallet with an infinite number of possibilities, which makes it possible to find the ideal French natural stone for each public project.
Discover all the French natural stones with the Lithoscope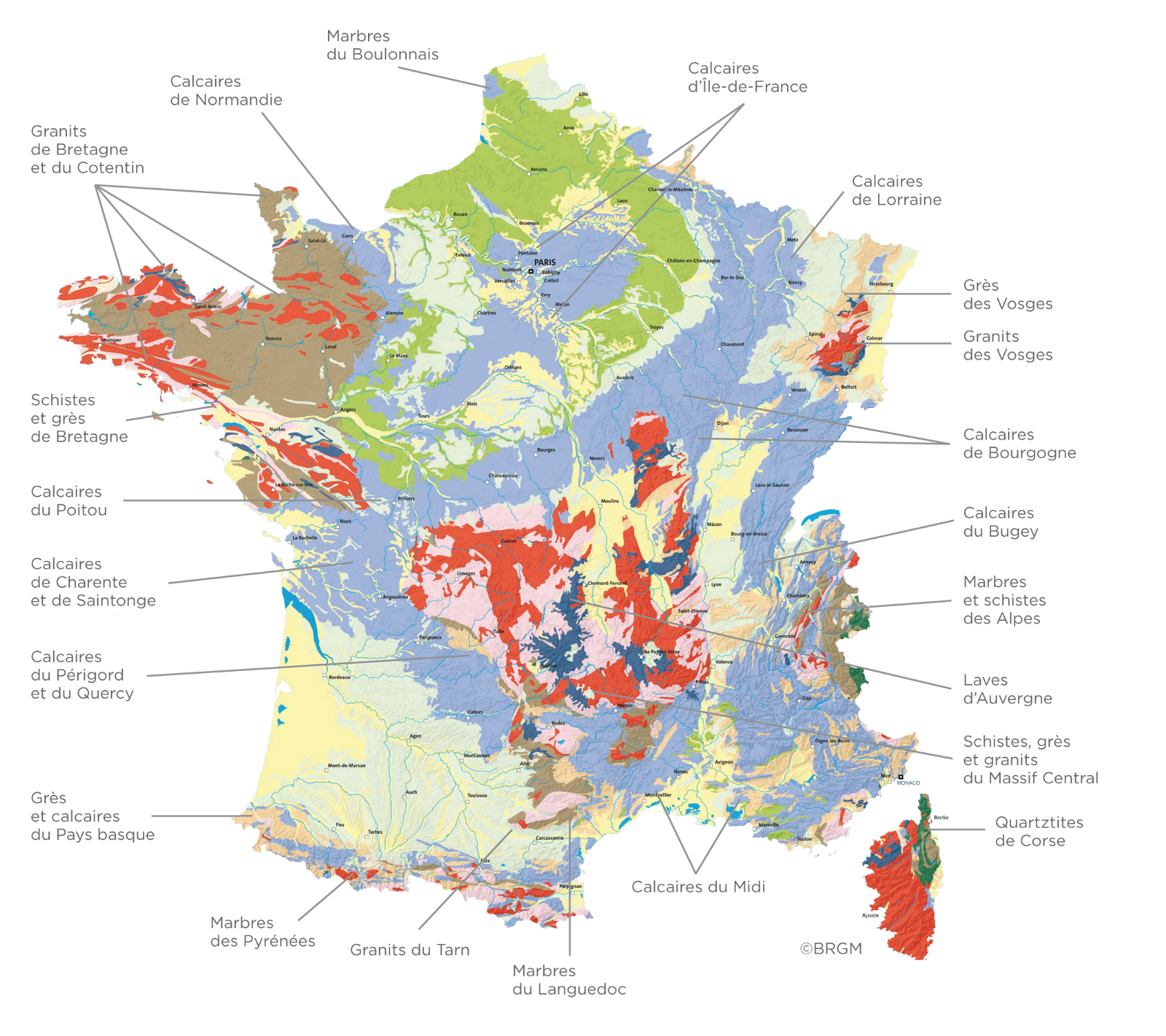 Map of natural stone distribution in France
© SNROC - Nathalie Minier graphiste
3. Answering today's challenges sustainably
Using local natural stone enables the creation and continuance of a circular economy beneficial for each area's economy. Investing in this sector creates jobs with futures and sustainable growth. On average, each job in natural stone creates over 4 "knock-on" jobs!
Natural stone is also a geo-based material that generates 6 to 7 times less greenhouse gas and carbon footprint thanks to its local availability and short circuit usage (1). It is the ideal material for your projects, among the healthiest for construction, requiring less maintenance than most other building materials and complying with RE2020.
Watch out for "French-washing"!
Suppliers from abroad sometimes try to use the "Made in France" on their natural stone. The objective is to pretend to have the many benefits of French natural stone more cheaply.
The CTMNC has developed stone DNA tests, which makes it possible to check technically and scientifically the true geological source of the stone. It advises local French authorities to use this test and include it in their tender documents!
4. Adding style to public works with French natural stone
The good news is that natural stone can be used for virtually everything - including urban developments and landscaping, construction and restoration projects – and, of course, memorials!  
French natural stone is ideal for every kind of project from the construction of social housing to hospitals, nurseries and administrative buildings.
6 main benefits of building in natural stone
 
With all these benefits, including French natural stone in public works is self-evident for French local authorities. Consult the SNROC guide (only in French) for more information and discover real-life examples of applications in public works.
---
(1) Batiactu: "La pierre française a un bilan carbone 6 fois meilleur que les imports", J.-L. Vaxelaire
(2) Pierre Actual: Halte au "franco-lavage" dans la pierre !, juin 2021
© Crédit photo : Givaga / Adobe Stock