Make your stone quarry management more efficient with drone photogrammetry
31 January 2023
This new technology is being rolled out in more and more sectors: audiovisual production, but also in thermography, roof analysis, agri-surveillance, and many others. With its ability to transcribe volumes in fine detail, the drone could become the norm in stone quarry operations before too long. We take a closer look at a trend gathering pace!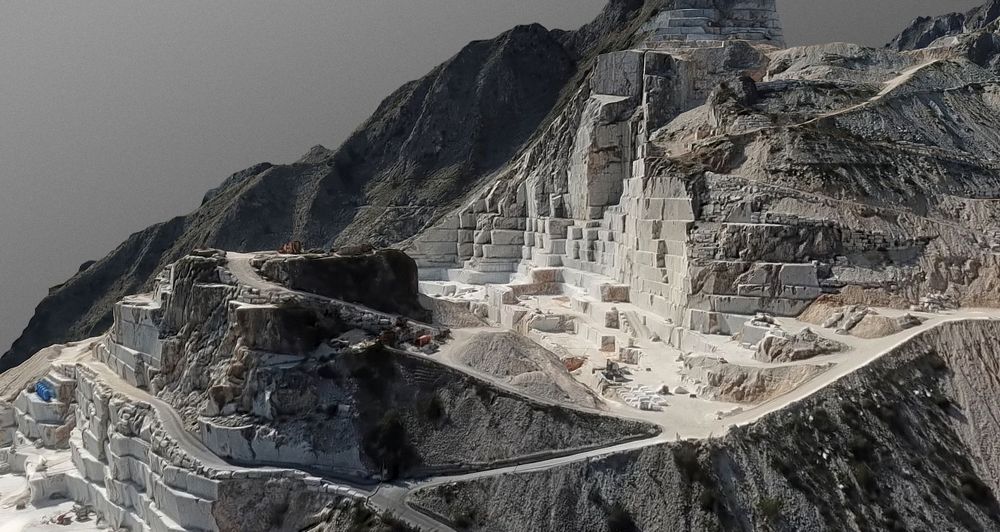 How does drone photogrammetry work?
Photogrammetry is a 2D/3D modeling technique for the faithful measurement of dimensions, spaces, and object volumes. It's been used for some time in geology, civil engineering, heritage preservation, and archaeology, but at the outset, photogrammetry depended on aerial photography by airplane. With cameras offering ever higher performance, ground-based surveyors gradually began taking over the task too.
In a stone quarry, this technique can create an accurate map of the location and its stone reserves, enabling better management of the extraction operations. The map can be in the form of a 2D orthomosaic or a 3D digital surface model (DSM). This opens up new opportunities for quarriers: 
measurement of their materials stock ;
calculation of their cubature ;
more accurate sales forecasts ;
operational monitoring ;
etc.
After the airplane and the surveyor-photographer, here comes the drone
As far as their ability to acquire high-resolution images even in poor light (e.g., a grey sky) is concerned, drones are no different from hybrid or reflex cameras. Their added value therefore lies elsewhere!
Awkward locations made easy
Small (249g to 25kg depending on the model) and highly maneuverable, the drone takes flexibility to a new level compared with airplanes. It offers access to awkward landscapes that would endanger a photographer using ground-based cameras and thus decreasing the risk of accidents on site. Then, of course, there's the carbon impact (or should we say lack thereof).
Fewer implementation constraints
Drone photogrammetry goes fast—the hundreds of photographs needed to mesh a whole quarry take tens of minutes rather than a full day for a surveyor. The hours gained translate to more operating hours for the site! The photographs are analyzed by a program or by a specialist service like DroneDeploy, which needs only a handful of minutes to output an exact volumetric map.
This practical aspect was a clincher for the Vignats quarry in France, where they brought in a professional drone pilot to map its 160 hectares for calculating stone stock cubature (1).
But not without its share of drawbacks
In bad weather, the drone is grounded and the mission grinds to a halt. Then there are the administrative constraints to consider: the drone is classed as an unmanned aerial vehicle (UAV) and is subject to air traffic regulations. There are many no-fly or restricted zones, and if your quarry happens to be in one of those, you must factor in several days delay to obtain the necessary permissions when scheduling the flight.
See one result of drone photogrammetry, along with the calculation process
Professional drone piloting, a skill to acquire with ongoing training
Stone quarries can call in a professional drone pilot for occasional photogrammetry or they can train up their own staff. The EU is currently converging drone regulations among member states, meaning professional drone telepilot training will be valid and identical in all EU countries. There are no prerequisites.
It's important to note that this training is compulsory when any of the following apply: 
the drone weighs more than 800 grams ;
the quarry lies within a restricted fly zone (close to an airfield, a military air traffic corridor, a nuclear power station, a built-up area, etc.) ;
you may need to take out a specific insurance policy for professional and civil liability (most boilerplate policies do not cover this type of activity).
Training involves a theory module, culminating in an exam with multiple-choice questions, together with practical training. This takes on average two months, including 5 to 8 days attendance at a training center. There are many training institutes who can assist professionals toward acquiring this skill, some with courses specifically oriented toward drone photogrammetry. Think about it!
This new technology joins with other digital innovations in transforming the natural stone sector and opening up new prospects. Join Rocalia trade show to discover and discuss these news trends with natural stone professionals!
---
(1) Ouest France: La carrière de Vignats utilise un drone pour relever ses stocks
© Photo credit: FUD-UJEP / SketchFab / CC BY 4.0