Regional natural parks in South-West France innovate with natural stone
30 March 2023
In France's biggest natural stone production area, the South-West (called Occitania) is organized in an original way as the seven regional natural parks (PNRs) work together to develop their natural stone resources. An inspiring approach called "Innovating with natural stone", presented by Nathalie Sautter (Haut-Languedoc PNR) and Christelle Frau (Catalan Pyrenees PNR) at Rocalia 2021 was so successful that a second session will be organized in 2023 with invitations for the submission of projects.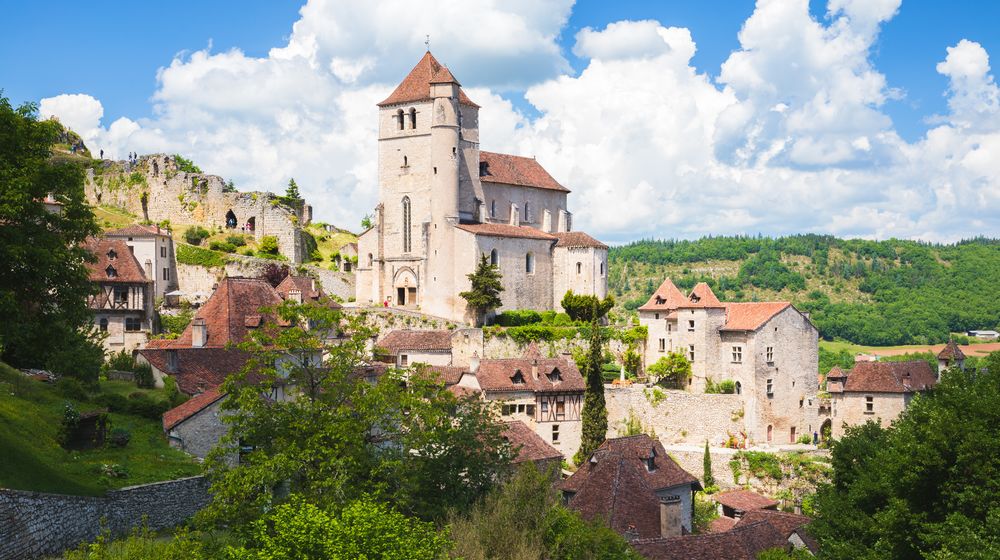 Saint-Cirq-Lapopie's town in Lot department, © Beboy / Adobe Stock
When natural stone is linking the territories
From the Central Highlands (Massif Central) to the Pyrenees mountains, the seven regional natural parks in Occitania (which in fact are now eight with the creation of the Corbières-Fenouillèdes PNR in 2021) account for 20% of the area. There are 120 natural stone quarries from which 233,000 tons are extracted each year by more than 200 companies for total annual sales of 132 million euros. There, natural stone hallmarks the landscape and is part of a rich natural, agricultural and architectural heritage and many classified sites.
Although unfamiliar, the dynamic stone sector is a real link between these territories, conserving its authenticity and creating a local circular economy.
A preliminary study carried out between 2018 and 2019 recorded the local uses of natural stone. It enabled the emergence of pilot projects within the scope of the regional natural parks innovation and experimentation mission to harness the talents of local natural stone crafts.
Regional natural parks have become test laboratories
Innovative, collective and individual action plans were deployed across the whole area to develop the local natural stone sector. The Region allocated 10,000 € to each PNR to finance one or more projects and the result is like natural stone: extremely varied! Some parks chose projects linked to the roadway system, others were linked to architecture, landscaping in natural stone or civic development.
Each test had to meet four objectives:
implement an experimental project with the natural stone
develop the use of the local stone in the PNR
implement a feasibility study
meet one of the fundamental missions of a PNR: innovation
The Pyrenees Catalan regional natural park
In partnership with the South-West France roads management service (DIRSO), the ancient trunk road 116, in poor condition in some sectors, was rejuvenated with a dry-stone support bed.
The Pyrenees Ariégeoises regional natural park
Two projects were adopted:
a dry stone art work by a craftsmen's group (GAPS) in Saurat. It is made from Saurat steatite ("blue stone") and granite from Latour-de-Carol.
the construction of a dry stone garden with recycled stones at Bordes-sur-Arize to increase local residents' awareness of the benefits of composting.
The Narbonne Mediterranean regional natural park
Several educational building sites were implemented to train or initiate a wide range of people — from inhabitants to professionals — in the restoration of dry stone walls. Six sites were run by the CNFPT, Batipole and the PNR for municipal staff, future building professionals and the inhabitants of Bages.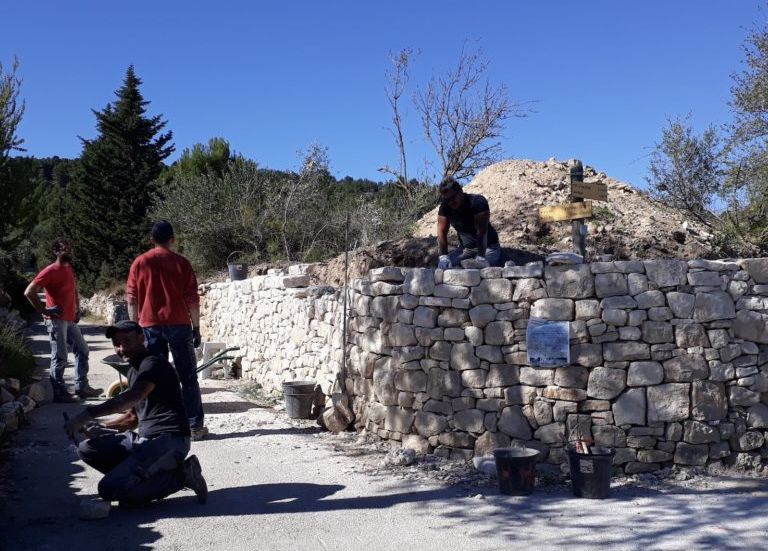 Dry stone wall building, © PNR Narbonnaise
The Haut-Languedoc regional natural park
Four natural stone projects were adopted:
the conservation and restoration of slate facings in Arfons
the construction of a cobbled pavement beside a tourist track at Colombière-sur-Orb
the restoration of dry stone walls in Saint-Amans-Valtoret
the enlargement of the sidobre granite outdoor theater in Vabre
The Grands Causses regional natural park
A research project dedicated to the mortised stone technique based on tests in the Lespinasse laboratory together with a pilot road support study. This project was carried out jointly with the Dry Stone Craftsmen Builders Guild (ABPS) and the engineering school École des Ponts ParisTech.
The Causses de Quercy regional natural park
An innovative 21st century dry stone wall was created during the construction of a new positive energy house in the park at Labastide-Murat. The work was carried out by a group of natural stone craftsmen.
Read more about the dry stone building
The Aubrac regional natural park
Two natural stone landscape furniture projects were adopted:
In Marchastel, a solid stone Oculus made from Bouzentès basalt overlooks an emblematic summit on the trail to Santiago de Compostela.
In Saint Laurent de Muret, basalt benches welcome weary travelers on a very popular trail to enjoy panoramic views.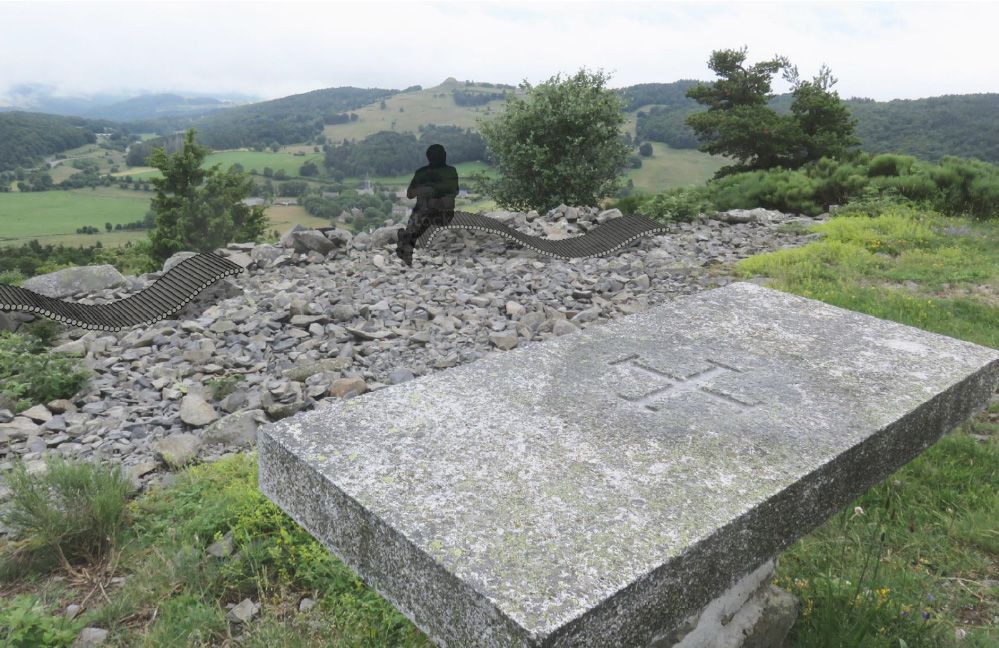 Basalt benches project, © PNR Aubrac
New prospects for "innovating with natural stone"
Following the enthusiasm these projects created, it was decided to continue the scheme and an invitation for new proposals was launched for 2023-2024. This time, project coordinator Amal Beraïch (Pyrenees Ariégeoises PNR) told us the budget ranges from 10,000€ to 20,000€. The PNRs actively promote the projects already executed and a technical summary booklet will be available in May 2023.
In addition, the PNR intend to design a stone recovery platform for which it has launched a feasibility study. Another study is being examined to map South-West France's stone resources and publish a directory of local craftsmen.
This ambitious project proves that it is possible to innovate with natural stone in a wide range of territorial projects and to bring together all the local players to ensure a positive impact. Watch our news for what happens next!
Listen to the podcast of the Rocalia 2021 conference (French only)
"Natural stone in the 7 PNR of Occitania"