The "Stone Trail" initiative embarks on a 5-year study of stonecutting in Eurasia
29 November 2022
What an ambitious scientific, technical, and social expedition Orianne Pieragnolo and Louis Dutrieux are conducting! In the summer of 2022, these two stonecutters set out on a long-haul project that has piqued the curiosity of the whole profession: they will be studying stonecutting practices in Eurasia on an epic bicycle trip that embraces no fewer than 34 countries. We meet with two lovers of natural stone and get their initial impressions.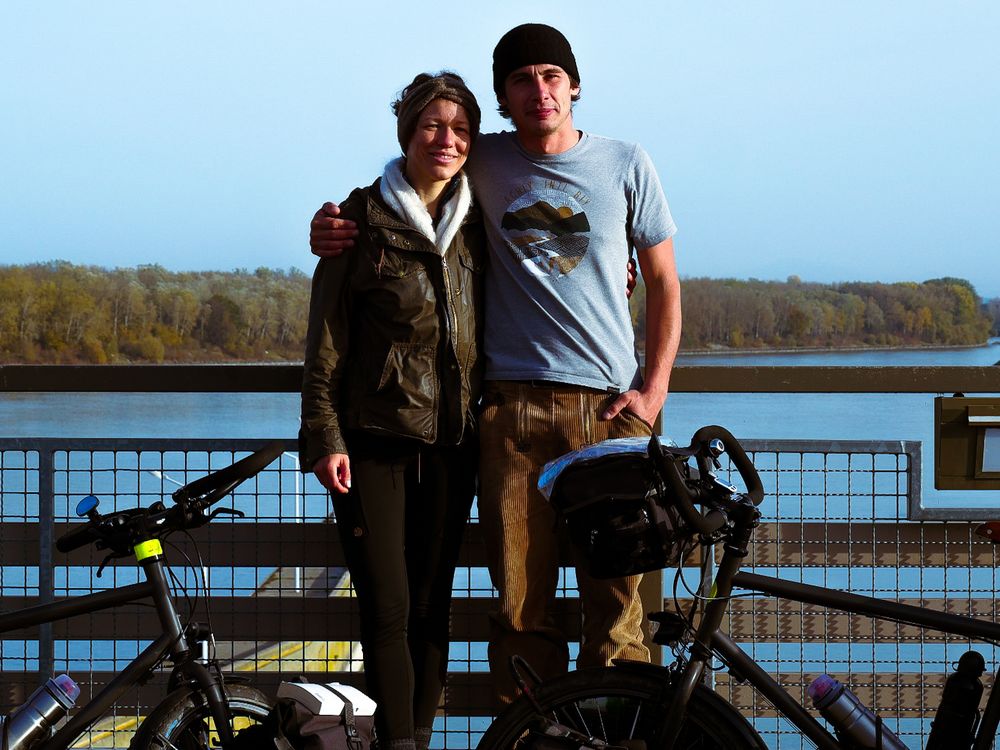 Stonecutting trade, a rare know-how
An unprecedented expedition on the trail of stonecutting practices
Stonecutting is behind the foundation of cathedrals, castles, bridges, and city walls. It's an ancestral craft without which our heritage would look very different. But what does it look like beyond our borders? What techniques are used? What position does the stonecutter hold in other societies?
Discovering that knowledge is the reason Orianne and Louis have embarked on this five-year scientific expedition with a five-point objective:
To meet stonecutters
To showcase and achieve recognition of this trade
To spread a modern image of stonecutting
To work in stonecutting concerns
To rally professionals and enthusiasts alike
An international perspective on modern stonecutting is being created in step with this Stone Trail ("Route de la Pierre"). It will expand our knowledge of the sector, notably with the establishment of a data bank. Natural stone professionals can, as of now, follow the expedition's progress in both French and English on social media via Facebook, Instagram, and LinkedIn, or else subscribe to the monthly update.
To produce results of the highest quality, "Route de la Pierre" is counting on support from professionals or from those who are simply curious, all of whose donations can contribute to the success of this expedition.
Show your support for Route de la Pierre
The birth of an expedition like no other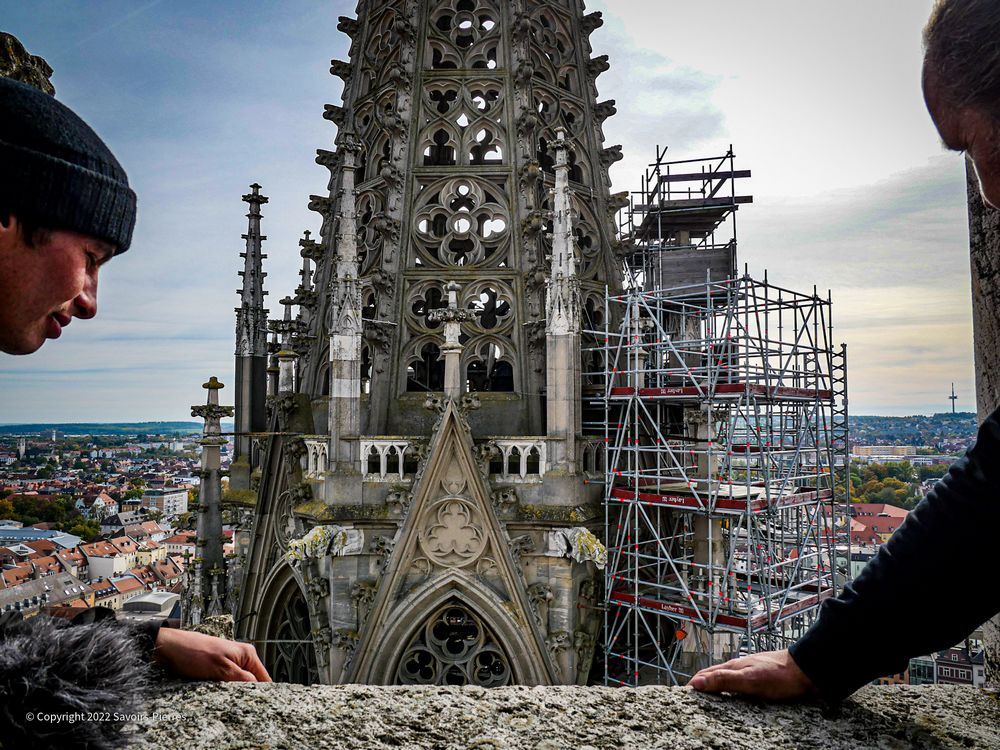 "We were in Paris, in the fall of 2016, holding lots of discussions on the future of our trade—its position and importance in the construction landscape and its presence across the world. We observed, for example, that during our training courses, we didn't get to see a lot of forms or know-how that existed beyond French borders. These were issues we cared greatly about and were closely linked to our traveling lifestyle, which we had already chosen quite some time earlier. We had in fact grown very attached to it and its natural stimulation of ongoing discovery.
Then, on the towpath of Paris's Saint-Martin canal, we shook hands to seal a deal between us: Whatever happens, we will set out on our bikes across the world to work."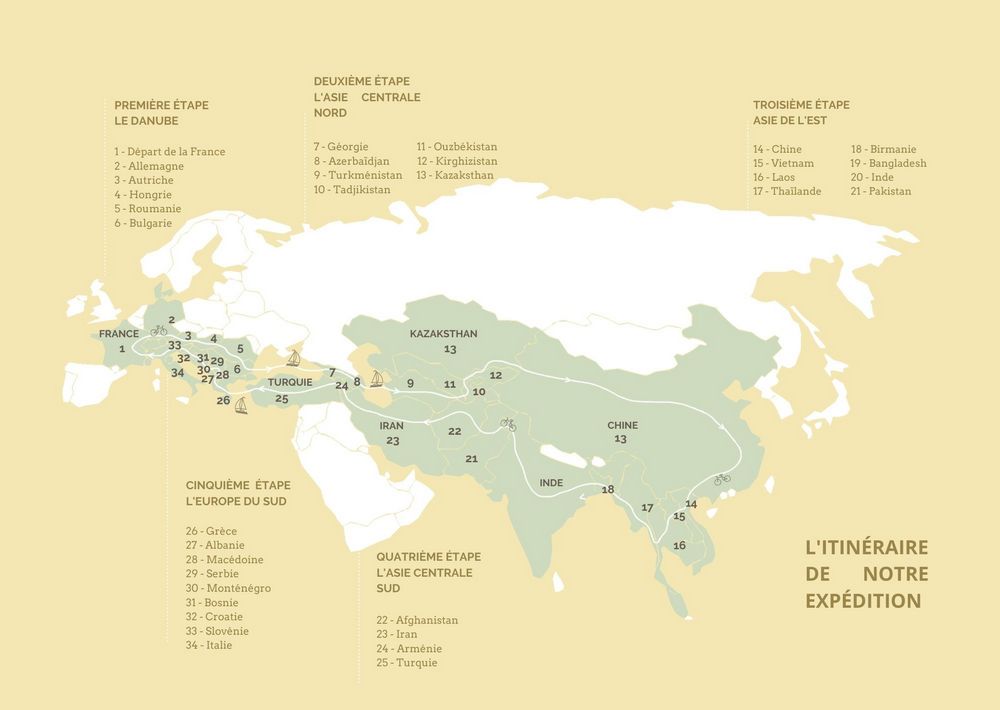 "Route de la Pierre" expedition: planned itinerary
The itinerary starts and is already showing promise
"Since our departure on July 10, 2022, we have visited 26 firms, 5 Bauhüttes (cathedral workshops), and 3 quarries. We have also collected 18 or so interviews with stonecutters and other stone professionals in Germany and Switzerland.
That's over three months so far that we've been putting our field and research methods to the test. During that time, we even managed to work for a month in a Bavarian artisanal stonecutter's yard. As we advanced, between chance encounters and those we made happen, an overall scheme emerged: one person leads us to another and we hope this system can lead us all the way to China.
The itinerary is therefore punctuated by study periods, encounters, visits, writing, and stonecutting. Our progress is directed by information gathered, work, time, and tiredness. Today, we are readying for our entry into Austria and thinking about the account we are going to write on the countries crossed to date. It's therefore been a rather happy start for us, with the major part of our objectives fulfilled."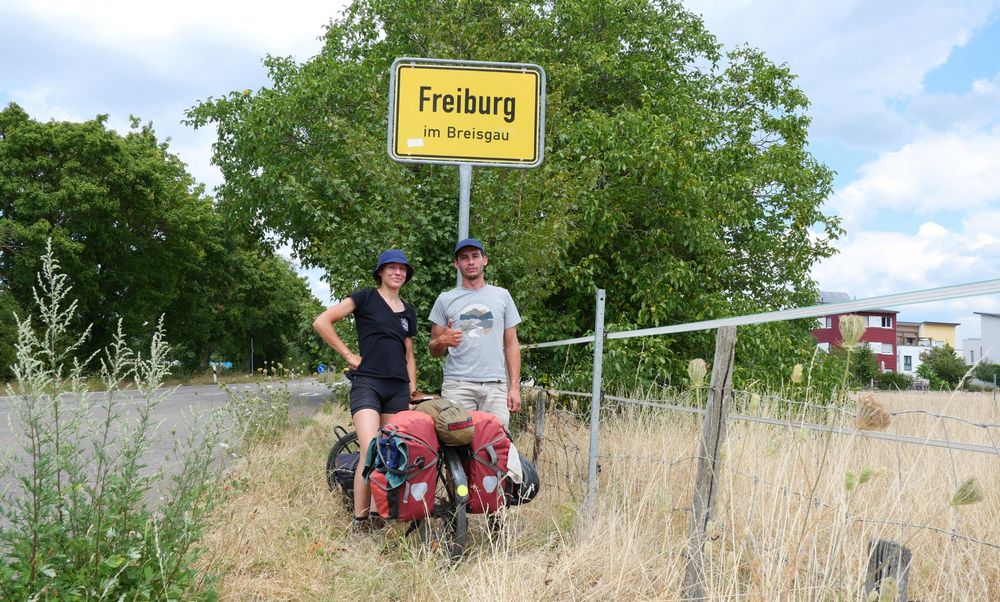 Orianne and Louis in Germany
No need to go far to discover the first differences in stonecutting practice!
"We have already noticed several peculiarities that seemingly don't exist in France. One particular example is the memorial stone market in Germany. In France, headstones and other funerary monuments are mostly the creation of marble workers, whereas in Germany, they are a stonecutter's work.
We also saw that German stonecutters have preserved a strong identity and culture. We think this has to do with the existence of guilds, but they aren't the only factor. The professionals we met who are not in an organization linked to their trade also display these values. Martin Wiesenmayer is one of them. One evening he told us about this stonecutter's song that dates back 500 years, and also about the apprentice's investiture ceremony he still practices, called Freisprechung. He explained that the ritual of the ceremony symbolizes the freedom the apprentice has gained, having completed their apprenticeship.
These first experiences have revealed many peculiarities to us. We are now impatient to discover the next country and link up all our observations, whether on the stonecutter's work or on any lasting stonecutter traditions."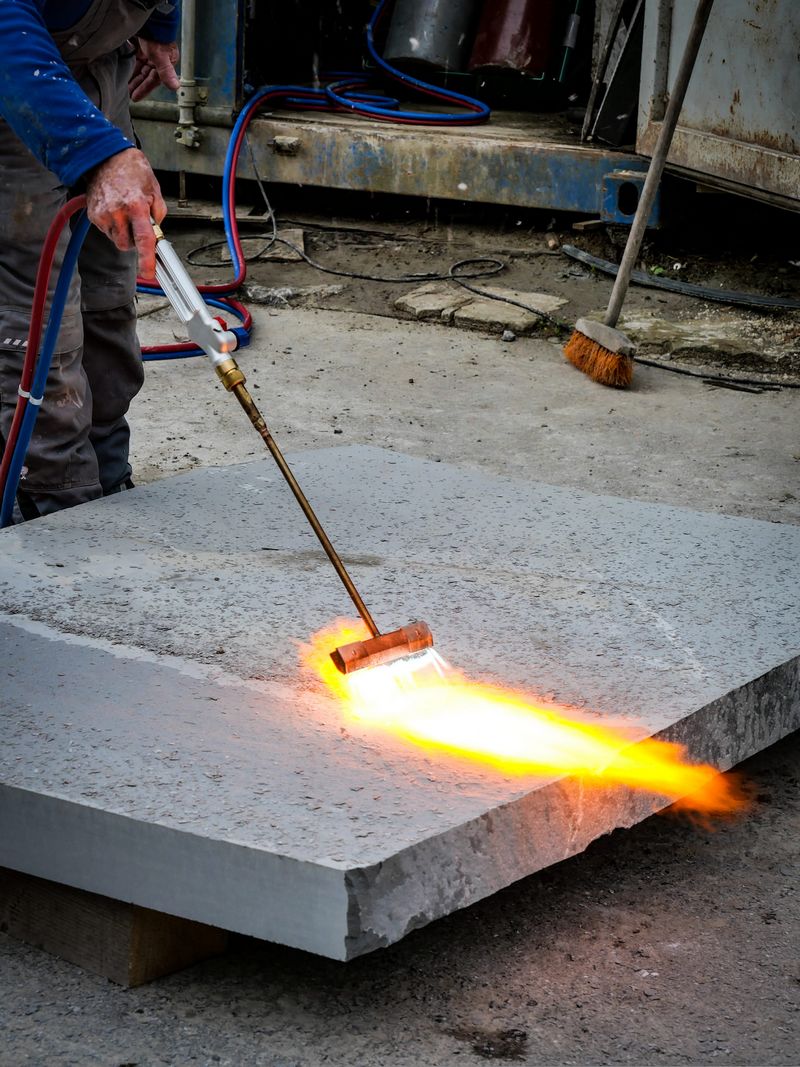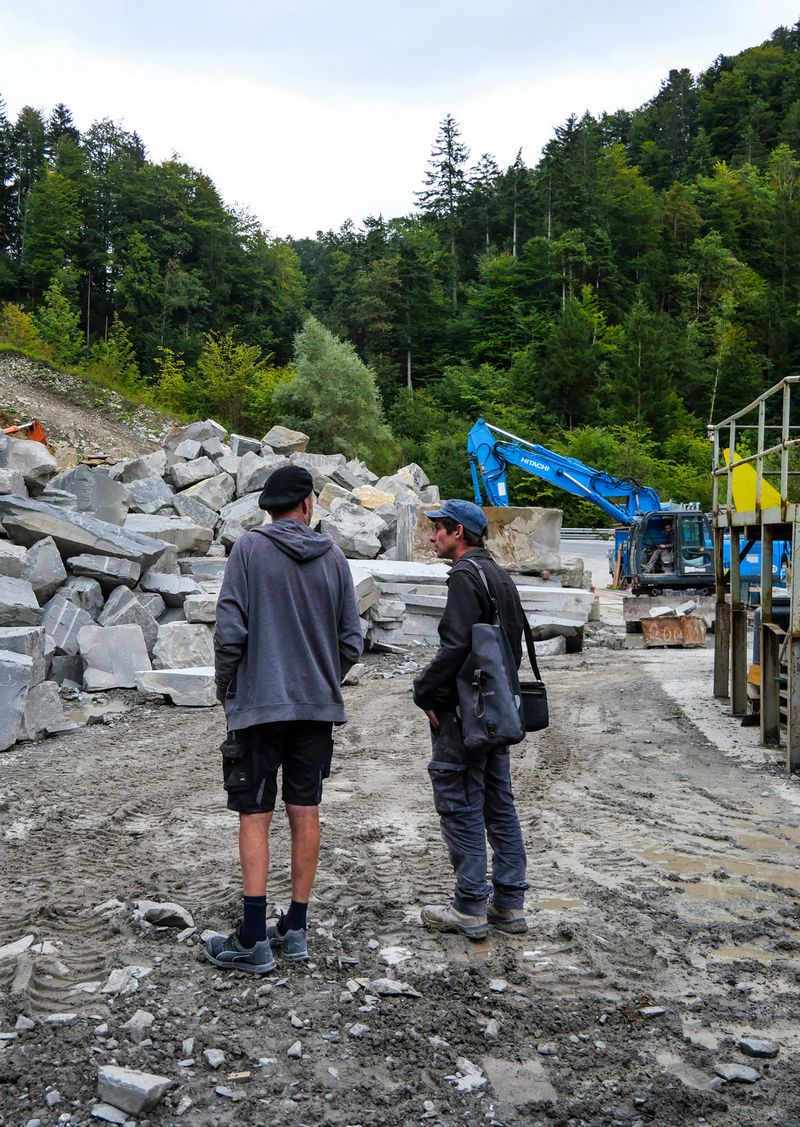 Discovering sandstone in the Schwarzach quarry, Austria
A project you can follow on social media, one we hope will encourage the young to have a vocation
"The project is an independent study on the stone cutting trade in Eurasia. This means we are working to compile an appraisal of the profession in a number of countries, producing various written and audiovisual media. To succeed with this project, we must apply ourselves to communicating to a larger audience than that of the stone world. We don't seek to be "influencers" by having a strong social media presence but to share a few of our observations as objectively as possible. We really want our presence to be informative, even if our travel method—the bicycle—might lead people to think it's just a trip.
We hope to get people to discover the stonecutting trade from another angle, different from open days and courses. We hope to show a more international image, one that is sure to strike a bigger chord with a young person today. We want them to feel this is a trade where they can be free, one in whose many practical as well as theoretical facets they can find an activity to fit them. Moreover, given the current renewal of interest in stone as a material thanks to its ecological and sustainable qualities, opening a positive discussion of the trade and its practices could be a good step toward giving people a vocation."
Nobody can doubt this magnificent project will be closely watched and supported by the whole of the natural stone community. Let's all wish Orianne and Louis a safe journey!
---
© Photos credits: la Route de la Pierre