5 examples of natural stone landscape development to promote a district
28 July 2023
Deep inside the regional nature parks of southwest France's Occitanie region, natural stone projects have the wind in their sails. No fewer than 13 projects were undertaken in 2021 and 2022, with one underlying brief: "innovate with natural stone". It's an initiative we've already touched on and one that has given rise to several landscape developments that promote the local territory using natural stone. They're a good source of inspiration for other great ideas!
Idea No.1: dry stone wall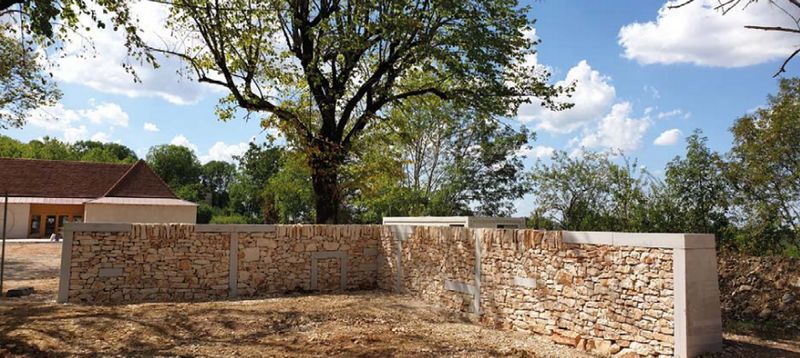 © PNR Causses du Quercy
This is probably the first landscape development that comes to mind when natural stone is mentioned. Assembling dry stones without binder or mortar is an ancestral craft most often seen in the form of walls. These mid-height walls can nonetheless be very contemporary, as proven by a construction in front of the park lodge at the Causses du Quercy regional nature park.
This limestone wall puts a modern face on tradition, with all the stones retrieved locally— the faced quarrystones come from a public works site and the rubble blocks from a field of stones earmarked for crushing. The wall is a shop window for promoting local stone!
Discover the dry stone builder trade
Idea No.2: herb garden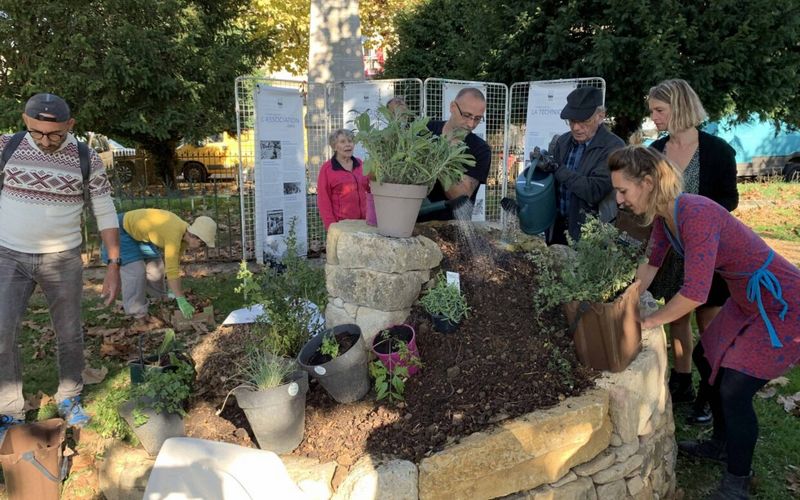 © SMECTOM du Plantaurel
What a wonderful idea the herb garden is for making citizens aware of the use of compost! At Bordes-sur-Arize in the Pyrenean foothills, dry stone building craftsman Thomas Niay has designed a structure made out of stone recovered from a local farmer's plot. Fed with compost from a nearby composting unit, this spiral structure counteracts temperature changes by the accumulation of heat and avoids stagnation of the soil moisture. It's also a welcome refuge for wild animals.
It's pretty, it's effective, and it gets people interested in waste sorting, which in turn protects local biodiversity. It's a must-adopt landscape development!
Idea No.3: work of art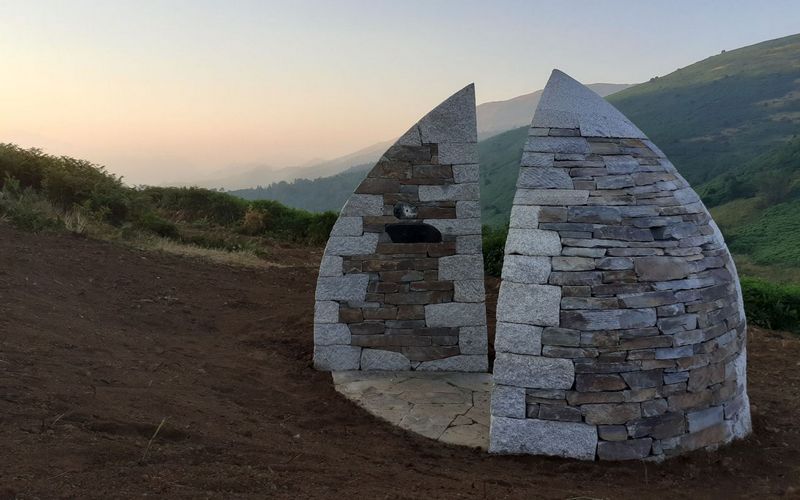 © GAPS
Most of the time, dry stone landscape developments are aesthetic. It's therefore quite natural that another Pyrenean village, Saurat, commissioned the dry stone collective GAPS (Groupement d'Artisans de la Pierre Sèche) to create a contemporary work of art out of dry stone.
Here, in the Col de Port mountain pass where Saurat joins Boussenac, two twin silhouettes made of granite, steatite, and schist emerge from the hillside to symbolize reunification of the district. The schist was originally from swine troughs. Here, it forms apertures and peepholes in the modules. The result? "Fenestrelles": 20 tons of granite and 12 tons of schist.
Idea No.4: outdoor furniture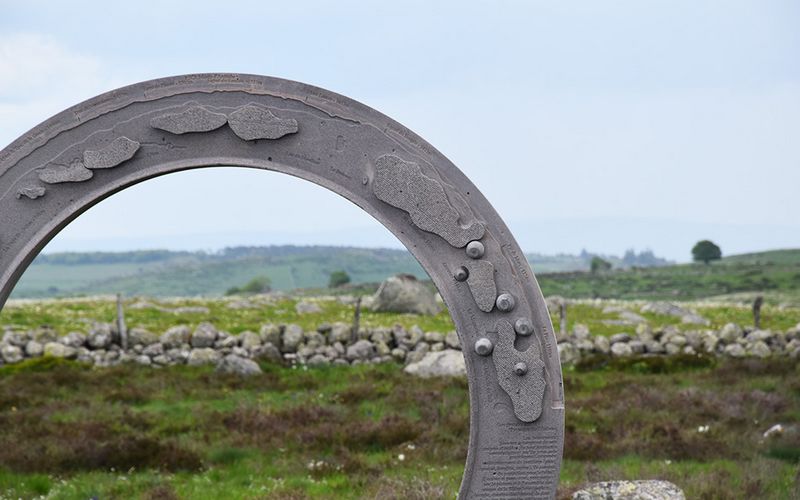 © PNR Aubrac
Offsetting a magnificent view from the Camino de Santiago de Compostela pilgrim's way, an offbeat installation invites observers in the Lozère department's Marchastel district to stop and contemplate. A solid stone ring, over two meters high (almost 7 feet) and cut from a single block of Bouzentès basalt, invites walkers to gaze at the landscape through this Stargate look-alike. It's a concept imagined by A3-Paysage that reinvents the horizontal viewpoint table. Stonecraft firm Hébrard et Fils brought the structure to life.
Natural stone can easily be modeled into benches and tables that blend seamlessly into the landscape and are unafraid of the weather. It's a great recipe for rest stops and viewpoints on hiking trails!
Idea No.5: roadway and roadside features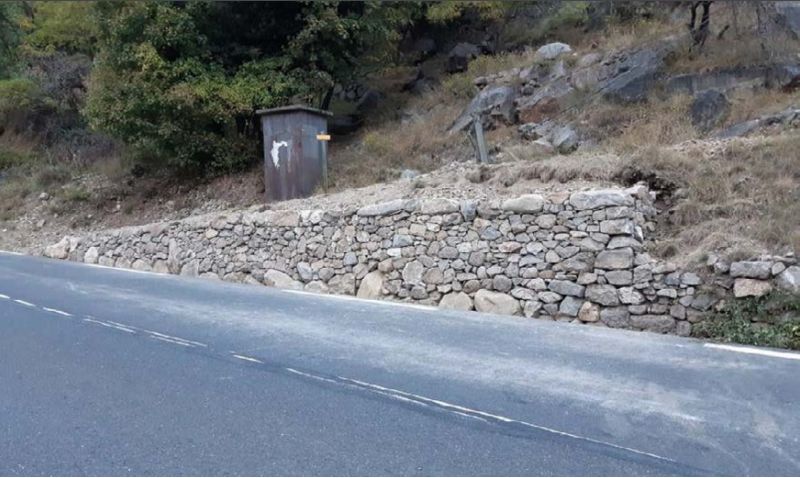 © PNR Pyrénées catalanes
Aesthetic, useful, and important for protecting our heritage, retaining walls are present in every French district. Alongside the National 116 road in the Catalonian Pyrenees, Frédéric Berthommier and his team of five stonewall artisans have carried out a granite restoration project.
Meanwhile, at Colombières-sur-Orb in the Hérault department, stonecutter David Segui has created a calade, a feature typical of Provence and Languedoc landscapes. It's a cobbled track that allows drainage of runoff water from the hills. All these roadway features help preserve local heritage and the local landscape.
Plenty of other natural stone landscape development projects have been conducted, whether for restoration, experimentation, or training in construction techniques. A whole detailed program awaits your discovery on the PNR Pyrénées Ariégeoises website. After a first round of success, the initiative continues with a second appeal for projects in 2023–2024!